Group
$449.95
Four to six students

Conducted over two weekends (see typical schedule below)

$100 surcharge for students 10-14 years old

The minimum age for all courses is 10 years old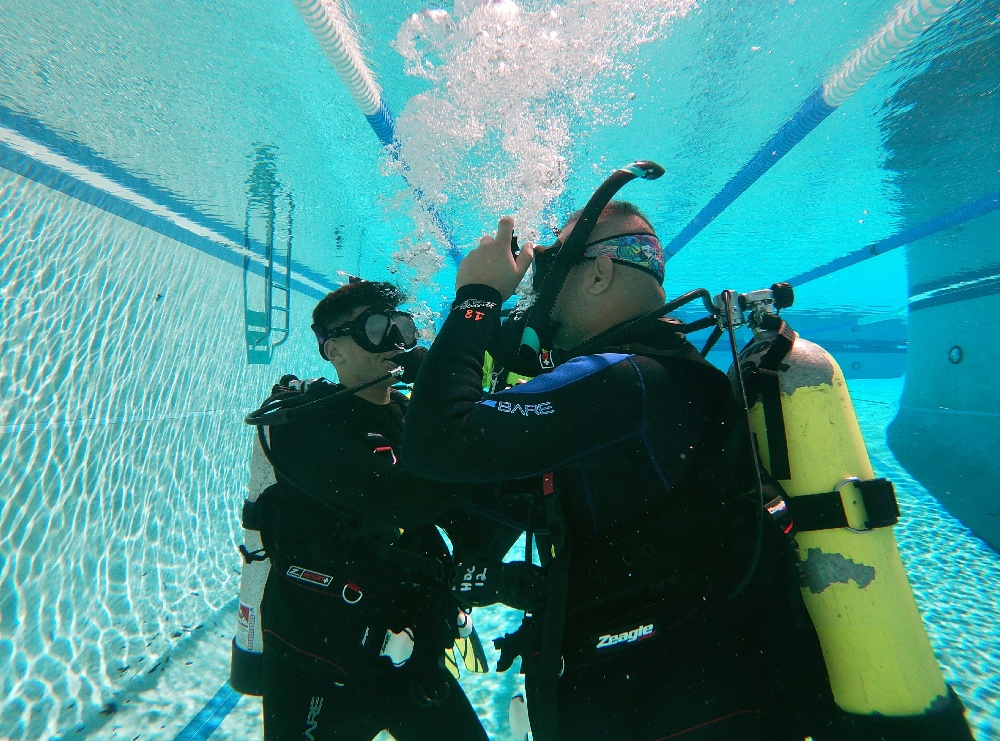 Group Class Schedule
Week 1

| | | | |
| --- | --- | --- | --- |
| Day | Time | Activity | Location |
| Friday | 6:00PM - 10:00PM | Open Water Academics | Classroom |
| Saturday | 8:00AM-11:00am | Open Water Academics | Classroom |
| Saturday | 12:00PM - 4:00PM | Pool Training | Countryside Country Club Pool |
| Sunday | 9:00AM-4:00PM | Pool Training | Countryside Country Club Pool |
Week 2

| | | | |
| --- | --- | --- | --- |
| Day | Time | Activity | Location |
| Friday | 6:00PM-10:00PM | Nitrox Academics | Classroom |
| Saturday | 7:45AM - 12:30PM | Open Water Dives 1-3 | *Varies |
| Sunday | 7:45AM - 12:30PM | Open Water Dives 4-5 | *Varies |
We will conduct the first day of open water dives at a natural spring, typically either Blue Grotto or Devil's Den located in Williston, FL.
We strive to conduct the second day of open water dives on a boat in the Gulf of Mexico. These dives are dependent on weather and boat availability. If a boat is unavailable will conduct the second day at either Blue Grotto or Devils Den.
The locations we visit most often include:
Blue Grotto and/or Devils Den: Natural springs located in Williston, FL (Typically Day

1's dives are conducted here)

A local dive boat charter, where you will dive on an artificial reef in the Gulf of Mexico.

Boynton Beach FL, where you will dive on the east coast in the Atlantic Ocean.

Key Largo, FL where you will dive on the beautiful coral reefs just off the coast of the Florida Keys.
Course Structure
Open Water Diver Academic Review

Review online academics

Create a dive plan

Learn proper equipment assembly

Complete Final Exam

Pool Training

Conducted at Countryside Country Club Pool

8-12 hours of in-water scuba skills training

Additional time can be booked for a fee

Enriched Air Nitrox Academic Review

Review online academics

Plan a nitrox dive

Analyze a Nitrox cylinder

Open Water Dives

Four to five open water dives are conducted over two days

Location varies based on weather, availability, and student preference

Certification!

Issued upon successful completion of training.

Physical card handed out at the next Heroes Hangout

Digital card in the MySSI ap
Courses Include:
SSI Open Water Diver and Enriched Air Nitrox online learning academics

In-person classroom training

Pool Fee and 3 pool sessions

Rental scuba gear including BCD, regulator set with dive computer, wetsuit, and air/nitrox cylinders and weights

Digital and Plastic certification card (Plastic card is given out at our Monthly Heroes Hangout)

Access to a digital logbook for two years



Courses Do Not Include:
Mask, fins, snorkel, booties, and surface marker buoy (all available for purchase at the dive center)

Entrance fee for all Open Water Check-Out Dives

(price depends upon dive site used)

For an extra fee, you may select a paper logbook
Cancellation Policy
For cancellations 48 hours before the first day of class: The online learning academics cannot be refunded, those are yours to keep. However, we can refund the rest of the course to you as store credit.

No refunds will be given for cancellations less than 48 hours before the first day of class or once the class has already started. There will be a $100 surcharge to reschedule.
Come on an Adventure with us!